Article: Embracing Autumn's Palette: Natural Stones for the Perfect Fall Atmosphere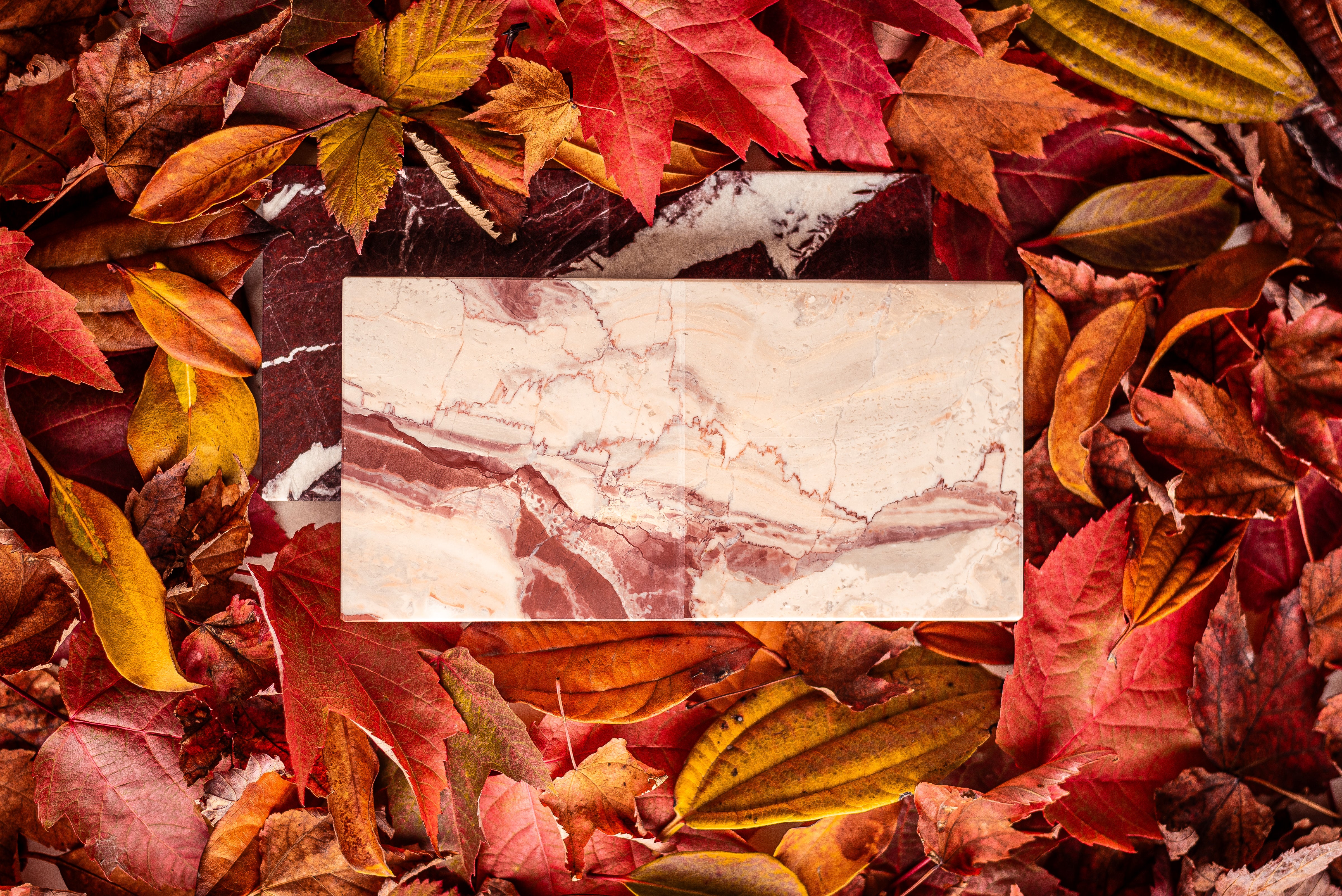 Embracing Autumn's Palette: Natural Stones for the Perfect Fall Atmosphere
With the leaves transitioning and the air turning crisp, fall is ushered in with a subtle yet significant change. This season, known for its warm and cozy atmosphere and earthy tones, provides the perfect backdrop for designers to fashion spaces that echo the essence of autumn.
Much like the colors found in nature, natural stones like marble are elevated. This beautiful material not only exudes an air of luxury but also infuses your design projects with the very spirit of fall.
In this post, we'll explore how our fall 2023 natural stone collection can help you create the ideal autumn mood for your upcoming design undertaking.
Rosso Levanto Marble: The Warm Embrace
Picture the deep reds and browns of Rosso Levanto marble, reminiscent of the rich and autumnal hues of fallen leaves. This captivating stone extends a heartfelt embrace of warmth and sophistication, incorporate it into countertops, fireplaces, or accent walls to infuse your space with the reassuring, autumnal spirit.
Cipollino Marble: Earthy Refinement
Cipollino marble, with its delicate veining and earthy green tones, encapsulates the very essence of fall. Its graceful, nature-inspired patterns can grace various applications, from resplendent flooring to striking backsplashes, lending your design an extra touch of natural beauty and the charm of autumn. 
Verde Alpi Marble: Crisp and Fresh
Behold the striking green canvas of Verde Alpi marble. The green marbled patterns evoke the grandeur of a forest during the beginning of fall. This refreshing stone is a captivating choice for tabletops, bathroom surfaces, or decorative elements, introducing a vibrant burst of life into your design.
Breccia Sicilia Marble: Subtle Elegance
Breccia Sicilia marble unveils a spectrum of warm and inviting tones, ranging from gentle beige to rosy and red hues, reminiscent of the soft, diffused light of autumnal evenings. Its adaptable appearance can grace your design project through inviting flooring, stunning walls, or even as an understated decorative accent.
Avellino Marble: A Golden Touch
The touches of gold over a grey brown background, small specks and large veins of Avellino marble give any design a luxurious touch. Its warm tones bring to mind the lovely shades of autumn leaves. Use this stunning marble to create eye-catching statement pieces, such as elegant countertops or detailed inlay work.
 Rosso Marble: Autumnal Opulence
Rosso marble, with its deep reds and intricate veining, radiates the richness that define fall. This stone serves as the canvas for crafting dramatic elements in your design, be it through luxurious flooring, powder room walls, or fireplace surrounds.
This season presents the perfect opportunity to infuse your design projects with the natural beauty of fall. Natural stones such as Rosso Levanto marble, Cipollino marble, Verde Alpi marble, Breccia Sicilia marble, Avellino marble, and Rosso marble offer the perfect medium to capture the essence of autumn.
These natural stones evoke warmth, earthiness, elegance, and opulence, breathing life into your design vision and transporting you to the heart of the season.
So as nature transforms and the leaves change, let your designs follow suit – embody the very soul of fall in every detail and create spaces that are not only beautifully designed but infused with the spirit of the season.